Online payments have remained one of the most vulnerable sections of the IT perimeter. Most banks and payment systems now have two-factor authentication. However, not all of them have instituted this process, and many cybercriminals have found ways to bypass it. The PC Trojan ZeuS and mobile Trojan ZitMo allow the intercepting of one-time passwords.
Attackers resort to various tricks to make the user expose details of his or her accounts, including phishing, fake sites, Trojans and keyloggers. Both end users and companies are at risk.
It is easier to prevent than compensate for the damage.
As we have mentioned before, small companies often attract intruders. Firstly, owners and employees of such companies do not believe that they are interesting for cybercriminals. Secondly, the "illusion of invisibility," in turn, becomes a pretext to ignore reliable protection of workstations. Thirdly, employees of small companies use the same devices for work and personal use more frequently than in larger companies, and the defense is often minimal. Criminals are well aware of all this. And they realize that it is easier to take advantage of it.
Our solution, Kaspersky Small Office Security, is developed for small business protection and has a separate specialized module called Safe Money that is designed to secure financial transactions against interception attempts. The module is actually separate: unlike most other functions of KSOS, it has its own icon on the Windows desktop.
Safe Money is mainly to prevent the successful use of malware, phishing or direct hacking to steal money. Correspondingly, the program first makes sure that the user truly visits a payment system or banking site and not a strange (i.e. phishing) resource. The URL of the page is verified by our own database of banks and payment systems websites. Then Safe Money checks the certificate by which a secure connection is established to avoid visiting a fake page once more.
After that the operating system is checked for the presence of critical online banking vulnerabilities. If there are any, you are strongly urged to fix them.
It should be noted that the solution recognizes payment systems when you try to visit them in your browser and immediately suggests starting the Safe Money module. You can also open this payment system via Safe Mode. It will launch a secure session in the browser – note the thin green frame around the Internet Explorer window: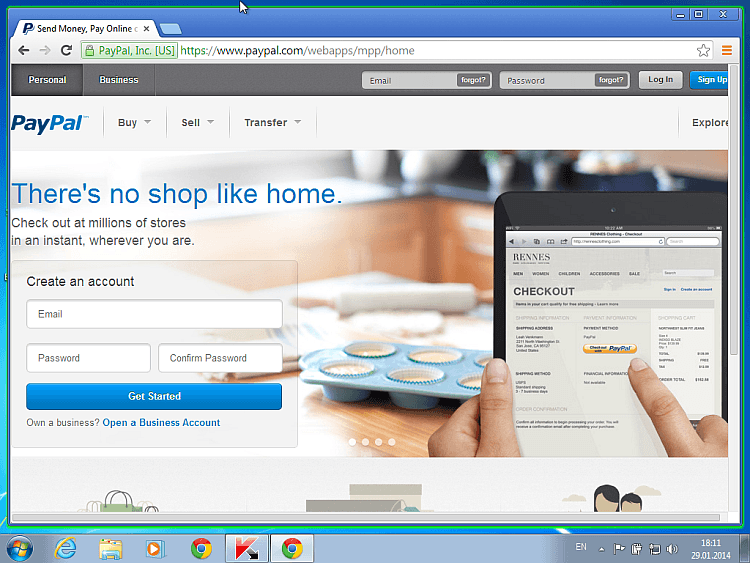 For small businesses, this is extremely important. Moreover, as we have stated before, small companies seldom employ system administrators to monitor the security of employees' computers. Accordingly, the easiest solution is installing the same security programs to provide adequate protection of the company's IT perimeter, even though all employees work remotely. At the same time, the security suite would prevent any attempts at intercepting payments. In the end, it is easier to prevent than compensate for the damage.