There is a joke about a note in a letter saying "Burn after reading." It's not the highest degree of secrecy. The best form of secrecy would be "Eat before reading," then no one would learn what was in the message. All joking aside, there are real life situations in which important data must be completely removed from a computer to ensure its safety. That means you need to back up, perhaps, encrypt it and then delete the data so that the standard Windows procedure of recovering deleted data would give no result.
There are real life situations in which important data must be completely removed from a computer to ensure its safety.
Kaspersky Small Office Security has a feature that allows deleted data to become irretrievable by using different algorithms. For example, in "quick deletion" the contents of the deleted file (or files) are replaced with zeros and pseudorandom numbers. Any standard recovery utilities will not be able to help. A method by Bruce Schneier is also available; the contents of a file are deleted in seven passes: first, the logical ones are written, zeros follow them, then five passes of pseudorandom numbers are written. However, this method is not recommended for removing data from SSD, USB-devices and network drives.
File Shredder is just one of the functions in the Administrative Tools. Most of them are auxiliary tools designed not necessarily to protect the data but to support the computer's normal functioning and restore the system.
Firstly, there are Kaspersky's Rescue Disk and Post-Infection Microsoft Windows Troubleshooting features. The first is easy to understand from its title. It involves creating a boot disk with additional antivirus means implemented. That is, if your computer is infected and disabled with malware, and the usual antivirus programs or disinfecting tools do not help anymore, you can try to restore the system using the "rescue disk." Kaspersky Rescue Disk makes an ISO file, which you can burn to a CD, DVD or store on a USB drive.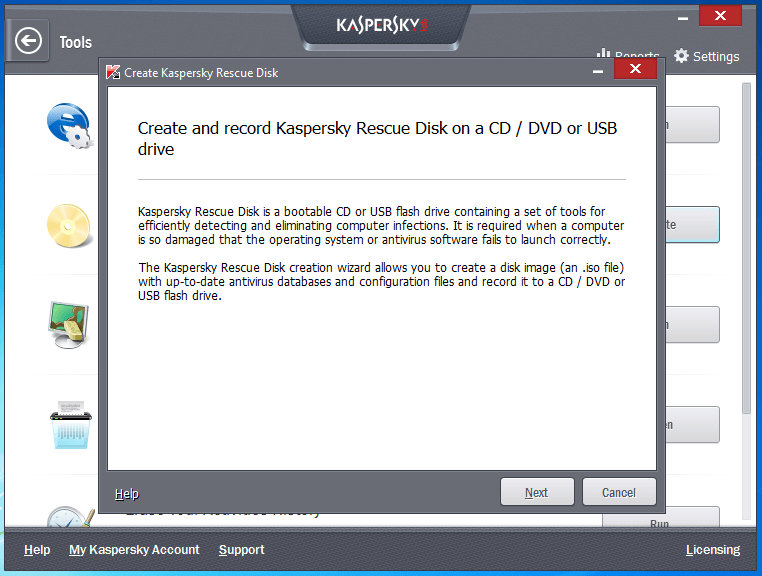 Post-Infection, Microsoft Windows Troubleshooting diagnoses your computer for changes and failures in the system that may be potentially associated with malware activity. Amongst other things 'Restore System after Infection' offers actions to eliminate any traces of malware in the system.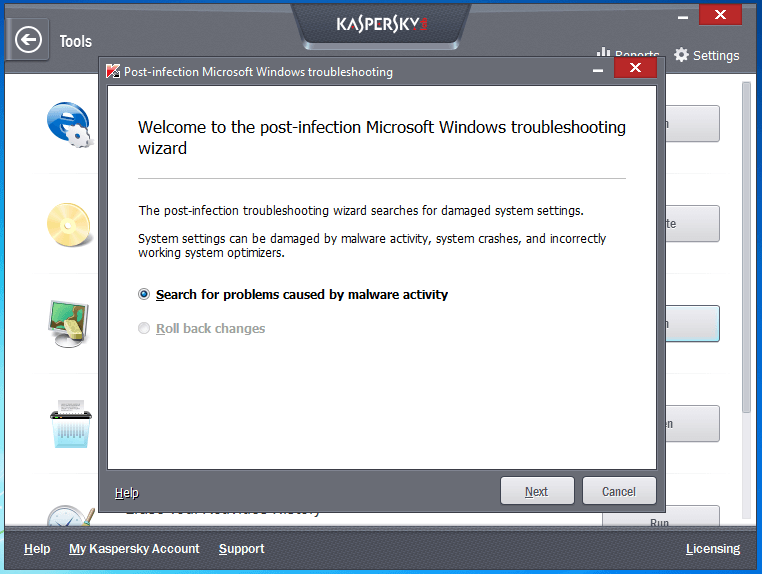 Two other functions may be helpful as additional measures after the irreversible deletion of data. The first is 'Erase Your Activities History' which purges the browser's history and cache, memory dumps, task scheduler protocols, etc. You can remove all traces of your own (or the user's) activity after Kaspersky Small Office Security 3 shuts down. This feature may be very useful, even necessary for "guest" computers, if there are any in the company.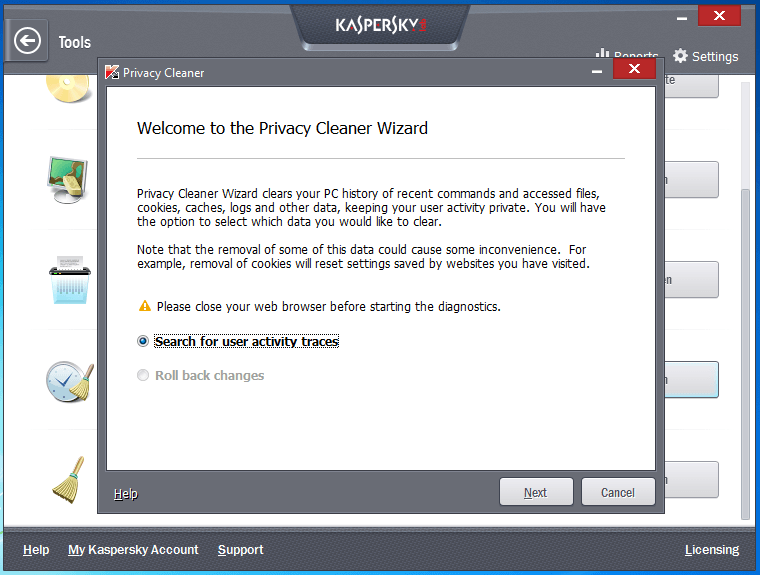 The above applies to 'Browser Configuration': Kaspersky Small Office Security allows analyzing Internet Explorer's settings and changing them if necessary to increase the degree of the program's security.
Last but not the least, the final function is for removing unused data on the computer (Unused Data Cleaner). Every Windows user is aware that trash data piles up in Windows. Disk space can be significantly reduced because of a brimming recycle bin, Temp folder, browser's cache, Windows logs and other junk, which accumulates in various places. KSOS lets you do the cleaning up automatically without any extra effort. All the junk can be removed in three clicks.