Year after year, there is an expectation for the Kaspersky Lab North American Partner Conference to be something spectacular and this year surely did not fail to meet that expectation. The 7th annual partner conference, appropriately themed, Rock On! kicked off with a rock and roll band, Revolver, playing some classic rock tunes to get attendees in the spirit!
The Rock On! theme was not only appropriate because the conference was held at the Hard Rock Hotel & Casino in Punta Cana,  but it was also because 2013 was a fantastic year and rock on is exactly what Kaspersky Lab would like to do in 2014 with its partners. Over the course of the day on Friday, February 7, attendees heard from a great line-up of Kaspersky Lab executives to learn more about 2013 successes, the current state of its partnerships and what Kaspersky Lab hopes to accomplish in 2014.
Steve Orenberg, President of Kaspersky Lab North America; Petr Merkulov, Executive Vice President, NA and Chris Gaebler, SVP of Marketing, NA made up the first group that took the stage to provide a recap of 2013 and everything that was accomplished last year.
"We're growing very fast in North America thanks to our partner network. The average growth for the industry was in the single digits this year. Our numbers aren't final, but we grew about 20%… And our projected growth for 2014 will also be in the double digits," said Steve Orenberg.
Steve stated that there were several reasons for the Company's success in 2013, however, the dedication to the partners and their customers' needs help keep Kaspersky Lab focused and able to deliver to partners. In 2014, Kaspersky will continue to focus on innovation, which includes paying attention to technology trends, emerging threats and the changing needs of its customers. There will also be a heavy focus on the partner network by providing effective tools and incentives that will help both Kaspersky and the partner grow together.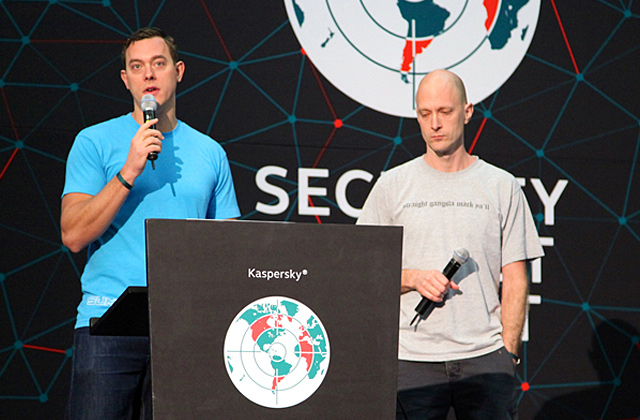 Eugene Kaspersky, Chairman and CEO of Kaspersky Lab, energetically took the stage to discuss what keeps him up at night – cyberthreats. He presented what he refers to as the '7 Circles of Cyber-Inferno', and stated that cyber weapons are the worst innovation of the twenty-first century and he believes that soon we will see more attacks on critical infrastructure. Eugene apologized for scaring the attendees, but said with about 25 years of experience in the security industry, he has the right to be paranoid and share his nightmares.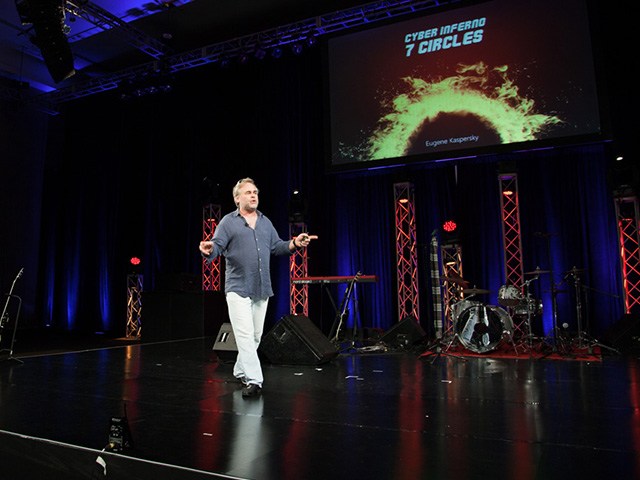 A few key pieces of information were announced during the partner conference this year. First, Kaspersky Lab North America officially introduced its new Certified Services Provider (CSP) program. The Program provides partners with the ability to sell and deliver professional services in partnership with Kaspersky Lab. To become a Kaspersky Lab CSP Accredited Partner, program participants have to go through a set of technical courses and certifications, live deployment testing and must agree to quality assurance requirements.
"Customer focus is the key to success for the Kaspersky Lab North American Support team. Our Certified Service Provider Program and our suite of premium support offerings were designed to ensure and maintain the high level of quality that our customers expect. Our customers can rest easy knowing that we are putting the right people and the right programs in place to help combat the complexity that may come with fully securing their business," said Dave Mello, Vice President, Support & Services, Kaspersky Lab North America.
Chris Doggett, SVP Corporate Sales, added, "Our partners should appreciate the program because if they don't have their own engineers who can deliver services, they'll have local Kaspersky Certified Engineers "on tap" to deliver customer projects, allowing them to offer more complete solutions (and generate more revenue) than they could do without it."
To learn more about the new services, see our press release on the program.
The second piece of news announced during the partner conference was the new virtualization security solution, Kaspersky Security for Virtualization | Light Agent. This new solutions will provided anti-malware and network protection for virtual machines through a combination of a dedicated virtual appliance and small software agents. Kaspersky Security for Virtualization | Light Agent benefits include lower performance impact on virtual infrastructure and overall protection fueled by the individual Kaspersky Lab technologies — including exploit prevention and application control components — found within the solution. For additional information on the new Kaspersky virtualization product, please see the press release.
Between presentations, Revolver rocked out and got the crowd amped up and appropriately played Queen's "We are the Champions," as Kaspersky Lab recognized top performing partners with its annual partner awards. Congratulations to all the winners, which included:
The Rising Star Award winner for 2013 was the Conversant Group.
The National Partner of the Year award winner was SHI.
The Highest Volume Value Added Reseller award winner was Guardian Network Solutions.
The Highest Growth Value Added Reseller was Soap Tech.
The Largest New Business Growth Partner winner was Paragon Micro.
The 2013 Partner of the Year award winner was Guardian Network Solutions.
[slideshow gallery_id="1″]
In case you missed the buzz during the conference, check out the conference hashtag, #KLPC2014, for great information, Tweets from Kaspersky Lab and attendees, photos and exciting videos!
We have successfully closed out another amazing partner conference! So how will Kaspersky top itself next year? Stay tuned to find out.