Kaspersky Lab has recently acquired another three accolades from a highly respected independent test lab. Dennis Technology Labs awarded highest AAA ratings to three Kaspersky's products in all three categories: Home Anti-Virus Protection, Small Business Anti-Virus Protection and Enterprise Anti-Virus Protection.
Dennis Technology Labs' opinion is especially noteworthy since it is assessing the capabilities of various security solutions in conditions that are as realistic as possible. It's not just about "feeding" these solutions with a disk-load of malicious software, and then see how many of them are filtered out. This is not what users encounter on a daily basis. So Dennis Labs specifically emulates maximum realism and assesses two aspects of the solutions offered: their Protection Rating, which shows how well the products handle malware, and Legitimate Software Rating, which shows how effectively they handle non-malicious programs.
"Our goal is to replicate a user's experience as closely as possible, which enables us to inform buying decisions for consumers and development considerations for vendors", DTL claims.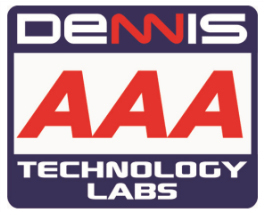 The products tested are exposed to internet threats that are considered "live" (i.e. active) during the test period. This exposure is carried out in a realistic way, reflecting a customer's experience as closely as possible. In other words, testing results show what would have happened if a user has been using one of the products and visited an infected website.
It is also necessary to mention the testing environment. Until the second half of 2013 Dennis Technology Labs used Windows XP-based systems to conduct their tests. It was the third quarter of 2013 when DTL used Windows 7 for the first time.
In the first quarter of 2014, Dennis Labs also used Windows 7, which is currently the most-used OS in the desktop market, both among end-users and businesses. The 64-bit Professional version of the operating system was updated with Service Pack 1 (SP1) but without any later patches or updates. This was made for a reason: DTL claims their tests' purpose is to check capabilities of antimalware solutions, and not the OS security. So they preferred the worst-case scenario, which is unfortunately quite common: a "clean slate" installation of Windows 7 64-bit, with SP 1 and without any further security beef-ups. 
Dennis Labs is replicating a user's experience closely during the test sessions.

Tweet
Also, a selection of legitimate but vulnerable and often-attacked software was pre-installed on the target systems – Adobe Flash Player, Adobe Reader and Java. They always pose an extra security risks, since they are very popular, very vulnerable and there are loads of exploits for them all ready for just any script-kiddie to use.
Then a different security product was installed on each of the test system. All of the products' update mechanisms were used to download the latest version, the most recent definitions and other elements, so that they were absolutely up-to-date.
Now, let's take a look at the results. An ideal security solution would block all malware and green-light all legitimate software, whatever it is. According to the test results Kaspersky Internet Security 2014 was the top performer in the Home Anti-Virus Protection category, correctly identifying 100% of legitimate programs, blocking 98% of the malware and neutralizing the remaining 2% afterwards. This brought KIS 2014 the highest number of points of all the participants so it was was awarded an AAA rating.
In the Small Business Anti-Virus Protection category Kaspersky Small Office Security did not trigger any false positives, and more: Dennis Technology Labs said it was "the least obtrusive", requiring minimum action from the user. 94% of threats were blocked, another 5% neutralized. This performance also resulted in AAA rating.
Kaspersky Endpoint Security for Business also turned in an excellent performance in the Enterprise Anti-Virus Protection category, blocking 94% of threats and neutralizing another 3% to earn yet another AAA rating for Kaspersky Lab.
Kaspersky Lab products also received top AAA ratings in all three categories of Dennis Technology Labs' previous round of Anti-Malware Tests conducted from October to December 2013, so it would be justified to say that Kaspersky Lab maintains its high reputation.
More data about recent test results and testing methodology can be found on the Dennis Technology Labs website here.